All Human Life is Sacred, from the moment of conception, to the moment of natural death.
Our babies lives, however brief, were gifts from God above.
Our Babies, AnnaBeth, Daniel & David Morrow, all died in the womb. The only thing they ever knew of this earth, was the warmth & love of their mommy, the loving voice of their Daddy & the excitement of their siblings who awaited their arrival... until they were received into the loving arms of Jesus, in God's Heavenly Kingdom.
They are missed every day, thought of every moment
& Loved eternally.
Thank you for taking the time to visit their site, you are helping us keep their memory alive. A special thanks to all the families who faithfully light candles for our babies, think of us & pray for us.
GOD Bless You ALL.
If this is your first time to visit the site, there are many resources available, it may be overwhelming to look at all of them at once. Please take your time, go easy on yourself. Check back often, as I try to add new links & resources as I come across them. Please share this website with others you feel may need it.
AnnaBeth Morrow 3/29/01
Daniel Morrow 11/1/07
David Morrow 12/19/10
We do not understand why we lost our little ones, but they are with God, their real Father in Heaven, who loves them even more than we do. Our hope is that through their deaths that God will use us & our witness to build up the Kingdom of God. All our strength is from him. We could do none of this on our own.


Do you know the Savior who holds your childs hand, I pray you do, because as parents of children who have gone before us, our hearts desire is to have them greet us with all the Angels & Saints, and to see their beaming faces, as they hear their heavenly Father say to their earthly parents "Well done, good and faithful servant".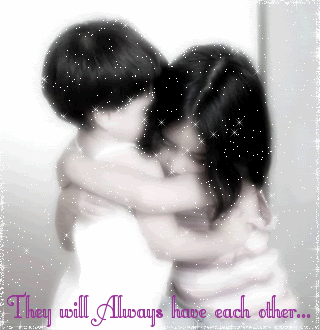 Also as an outreach of our family ministry, The Apostolate of The Holy Family, we would like to send you a certificate of life for your baby. Feel free to e-mail me anytime at: themorrowclan@yahoo.com


Jesus said in Luke 14:1-3
"Do not let your hearts be troubled.
Trust in God; trust also in me.
In my Father's house are many rooms;
if it were not so, I would have told you.
I am going there to prepare a place for
you. And if I go and prepare a place
for you, I will come back and take
you to be with me that you also
may be where I am."


If you received a bear from The Bear Hugs Program, please know that we are very sorry for the loss of your precious baby.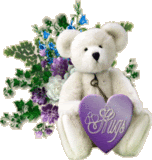 We hope that the links listed on this page are helpful to you. Please feel free to contact us if we can help at all, know that you are in our prayers daily & that you are Not alone in this journey of grief & hope. Please feel free to share this website with others who have experienced the loss of their baby, even if it was years ago. Many women have unresolved grief over the loss of their baby that no one else even acknowledges existed, particularly babies lost during early pregnancy.
GOD Bless You today & Always.
With Love in Christ Jesus,
The Morrow Family
An ordinary family, on an extraordinary journey.
As we travel through this grief...believing in Faith, that God will bring us through this
& will bring Good out of this.
Will you take us by the hand & walk with us?


If you know of anyone who needs support & information, please feel free to share our site.
We have been very careful in selecting the links placed here.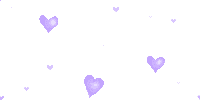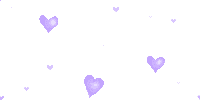 Helpful Websites for greiving families:

http://www.nationalshareoffice.com/
SHARE offers free grief counselling, free grief packets & many helpful resources.
Toll-free # 1-800-821-6819

http://www.elizabethministry.com/
Offers many resources, especially for early pregnancy loss, including miscarriage delivery aid, & the tiniest caskets for burial of your baby (which if under 20wks may be done on your property without any special permits).

Offers to record you baby's name in their Book of Life in the Shrine of the Holy Innocents in New York. They will also e-mail you a Certificate of Life for your baby's keepsake box or book.
http://www.october15th.com/
Offers many helpful resources for those suffering the loss of a baby.
http://www.marchofdimes.com/pnhec/572.asp
Offers free grief packet, as well as information on pregnancy & newborn loss.

http://www.firstcandle.org/whenababy/whenababy.html
Offers information specifically on SIDS & stillbirth, also offers free bilingual counselors by phone 24/7.
http://www.babylosskit.com/resources.html
This website offers information on everything from miscarriage, stillbirth, infant death, SIDS, genetic anomolies, even post-abortion grief. They offer so many links for each of these, it is a beautiful site.



http://www.aplacetoremember.com/
Offers forums, memorials & an on-line store with tiny gowns & bonnets to fit babies as small as 16 wks, as well as books on pregnancy loss & stillbirth & infant death, and memorial items.

http://www.rowantreefoundation.org/
So many helpful resources here, it's hard to list them all.




http://www.compassionatefriends.org/
Offers support & information to grieving families.
They also have a toll-free #
1-877-969-0010


http://www.stillnomore.org/main.htm
With lots & lots of information about Stillbirth.

Lots of Info. & Resources Here.

http://www.honoredbabies.org/home.htm
So many resources here, this site was started by a mom in honor of her baby Kadin, Born Still but Still Born.

Great book list under resouces, including the ISBN#

http://www.misschildren.org/index.html
Many resources & I love their "Random Acts of Kindness" program, also they are really pushing for state legislation to acknowledge the lives of stillborn babies by providing them a Certificate of Birth Resulting in Stillbirth.

http://www.ewtn.com/Devotionals/prayers/miscarriage.htm
This is a beautiful prayer written by Mother Angelica & Also includes the "Blessing After Miscarriage" from the Book of Blessings

http://ca.geocities.com/morninglightministry@rogers.com/ Catholic Ministry for families who have lost children to ectopic pregnancy, miscarriage, stillbirth or infant death.

**Don't forget to look for local support. Check with local hospital's to find out if & where a support group may be meeting in your area.**
http://www.ameliacenter.org/default.aspx?id=2
If you are local to Birmingham, AL, the Amelia Center is a wonderful resource available to you. Please visit their site & give them a call.




The journey through grief is a long & difficult one & there is no preparation for this season of your life.
Let this journey be what it is & let yourself be who you are now.
Be patient with your new & grieving self, as you walk this journey. Know that you are not alone.
God wants to reach out to you & take you by the hand if you will allow him too.
God did not "take" your baby away from you, & you are not being punished...
We live in a fallen world, where there is sickness & death...
But God allows this to happen, & uses this loss to bring about good.
Our little ones were received into God's Heavenly Kingdom the moment that they died, & now the Angels sing their lullabies.
What will God bring out of this?
We can only imagine...

Helpful websites for friends & family:

http://www.babylosskit.com/what.html
Help with what to say & not say to grieving parents.


http://www.marchofdimes.com/pnhec/572_15997.asp
Talks about how friends & family may be feeling & gives helpful advice for how you can best respond when someone you love has just lost their baby.



Treasure in Heaven...
written by Sherry Morrow (copyright 2008)

When a woman is pregnant & her baby dies,
it doesn't matter to her if she was 5 weeks
or 35 weeks...
She lost a baby...
Her baby...
Body & Soul...
A unique person...
A child of God...
A part of her...
A piece of her heart...
Dreams of a future...
A future that is gone...
She is changed...
She will never be the same...
For part of her now resides in Heaven...
And now the rest of her life's focus will include
the desire to see, hold & touch that baby again...
Someday...
She will seek out the path to Heaven,
even more fervently than ever before...
She knows, that not only is her Savior waiting for her,
but he holds in his arms
one of the Greatest Treasures of Heaven...
Her Baby...
Whole...
Complete...
Perfected...
Happy...
And She will know her child...
It is promised to her...
And she believes...
She believes.

In Memory of your little one:
Consider ordering a special print or ornament that is a special reminder of your beautiful baby. Melissa Dayton, artist of Pearls of Grace Fine Art, offers a beautiful print called "Escort to God", it is Breathtaking!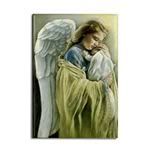 Other Precious little souls in Heaven:
http://hannah-card.memory-of.com/
http://emalee-rain-galamore.memory-of.com/
http://patrickjayclark.memory-of.com/
http://joshua-blakeway.memory-of.com/
http://kinsey-and-kylee-sullivan.memory-of.com/
http://chino-perez.memory-of.com/
http://siobhan-bryantmillar.memory-of.com/
http://zackary-twardowski.memory-of.com/
http://vanessa-barnai.memory-of.com/
http://ayden-saenz.memory-of.com/
http://kristopher-verge.memory-of.com/



Gone But Never Forgotten...



Our Little Memorial Garden for our friends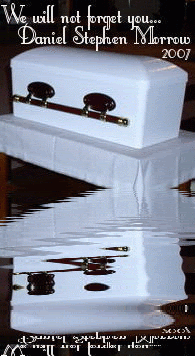 Daniel Stephen Morrow
November 1, 2007




For you created my inmost being;
you knit me together in my mother's womb.
I praise you because I am fearfully and wonderfully made;
your works are wonderful,
I know that full well.
My frame was not hidden from you
when I was made in the secret place.
When I was woven together in the depths of the earth,
your eyes saw my unformed body.
All the days ordained for me
were written in your book
before one of them came to be.
Psalm 139:13-16


Sacred Heart of Jesus & Divine Mercy



Look how tenderly Mary kisses the face of God.
How can anyone not love her?
After She...
was chosen by God,
accepted the gift of his Son, our Savior, into her womb,
gave birth to him in a stable,
nursed him & changed his diapers,
presented him in the temple,
heard those fateful words uttered by Simeon,
raised him tenderly in her care,
stood in awe when she found him teaching in the temple at the tender age of twelve,
cleaned his skinned knees & wiped his tears away,
watched him grow into a man,
encouraged his first miracle at the Wedding Feast of Cana,
saw him teaching with the twelve,
heard of the betrayal of Judas,
watched him suffer the horrible pain of being Crucified,
and then dying on the Cross,
stood at the foot of the cross after his death,
received her dead son's body into her arms,
laid him to rest,
grieved for him,
spent time with her Resurrected son,
witnessed his ascension,
was there at the first Pentecost in the Upper Room...
At every turn, she was there for her son...
And what does a Good Son do for his Mother?
He takes care of her,
he honors her,
he Loves her.
Jesus was & is all Good,
& you know if he could spare anyone the corruption of death,
it would be his Mother,
the one who was there with him throughout his life,
loving him every step of the way,
& You know she is there with him now,
still trying to lead people to him,
& to salvation through him.
She loves him & he loves her,
forever,
as any Mother & child should.
It is at the heart of what we believe
about the relationship
between Jesus & Mary.
If we are brothers & sisters in Christ Jesus,
then she is our mother too.
It is why we love her,
& honor her as Mother.
And as a mother grieving the loss of a child,
she can relate,
she has been there too,
she has felt this pain.
She also knows what awaits you,
if you believe in her son,
because she is looking into the eyes of your child now,
and look how tenderly she kisses their face...

written by Sherry Morrow (copyright 2008)

Helpful websites for ideas to remember your baby:

http://www.nationalshareoffice.com/resources_creating_memories.shtml
Offers suggested ways to create memories, even for very early pregnancy loss.
http://www.rowantreefoundation.org/index.php?option=com_content&task=view&id=115&Itemid=2
Offers a photo re-touching service, where she can color correct the often very dark skin of our tiny babies, she can also soften the look of the picture.
She offers this as a ministry, for donations only.
http://www.justacloudaway.com/index.html
Look at the Left side column for "Additional ideas to help you", & click on that, there are so many!
http://www.justacloudaway.com/nav-sidebar-ideas/garden.html
Offers ideas for a memory garden, you Have to see her son Tanner's memory garden to believe how beautiful it is!

http://www.rowantreefoundation.org/index.php?option=com_content&task=view&id=34&Itemid=9
Lots of suggested ways to remember your baby.
http://www.kotapress.com/section_articles/rituals/other/ScrapbookingYourBaby.htm An excellent site for ideas on what to include in your memory book or box, as well as other ideas.
http://www.handonline.org/parents/memories.html some very beautiful suggestions for remembering your baby
http://www.misschildren.org/family/funeral.html Has lists of helpful resources for planning a baby's funeral or memorial service.
Thank you for visiting Daniel & AnnaBeth's site. Please take a moment to light a candle in their memory before you go.

Some ways to remember your precious baby:

If you haven't already, give your baby a name.
It doesn't matter if it's been a month or decades since you lost your baby, it's never too late! I have spoken to many moms who have given their baby a name years after their loss & have received great peace from this. It also doesn't matter if you knew the sex of your baby or not, choose a name that you like, you can go with your gut-feeling about the sex or choose a neutral name. But your baby was & is a unique individual with their own identity & should have their own name as well.

Create a keepsake book or box, you could buy one or create your own as a project.
Fill it with anything you have that reminds you of your baby.
These might include:
pregnancy test
appt. cards from OB
pictures of you pregnant, even if you were not showing
ultrasound pictures or video
congratulations cards
certificate of life
(these can be purchased from SHARE, A Place to Remember, or received free from innocents.com)
poems you have written or found that you like
letters written to or about your baby
pictures of your baby's memorial or memory garden
photos of things that remind you of your baby
(these may include butterflies, the sky, rivers, flowers, trees, really anything that makes you think of your baby.)
If you have them, you could also put in:
footprints
crib card
lock of hair
birth certificates
photos
hospital bracelets
Baptismal certificate
Memorial program
dried or artificial flowers
Obituary
church bulletin announcements
announcement cards
condolence cards
pictures of the gravesite
journal entries from significant dates
any outfits or booties you would like to keep
any other momentos you have
anything that is special to you ,as it relates to your baby.

You may want to purchase a gold baby ring
(these are often given by hospitals after the loss of a baby),
but can also be purchased at jewelry stores,
or you may chose a birthstone pendent
that represents the month you lost your baby.
Wear these on a necklace, close to your heart,
or a charm bracelet for others to see
a visible reminder of your baby.
Other moms may choose a Guardian Angel or Saint Medal,
as a reminder that their baby is in the company of
the saints & angels.


You may want to keep a journal to write down your thoughts, poems & letters you would like to write to or about your little one.
Or you may want it to be a prayer journal, that you record your prayers to God, or your conversations with God.
It is very healing for many to get their feelings down on paper.
My prayer for you, is that God will be with you in your difficult days ahead, that he will surround you with his love, that you will cry out to him & give him all your sorrow & pain, & allow him to heal you in his own time.
God Bless You All.